« Back to Resources / Training Tools
Viral Load Toolkit - Flipcharts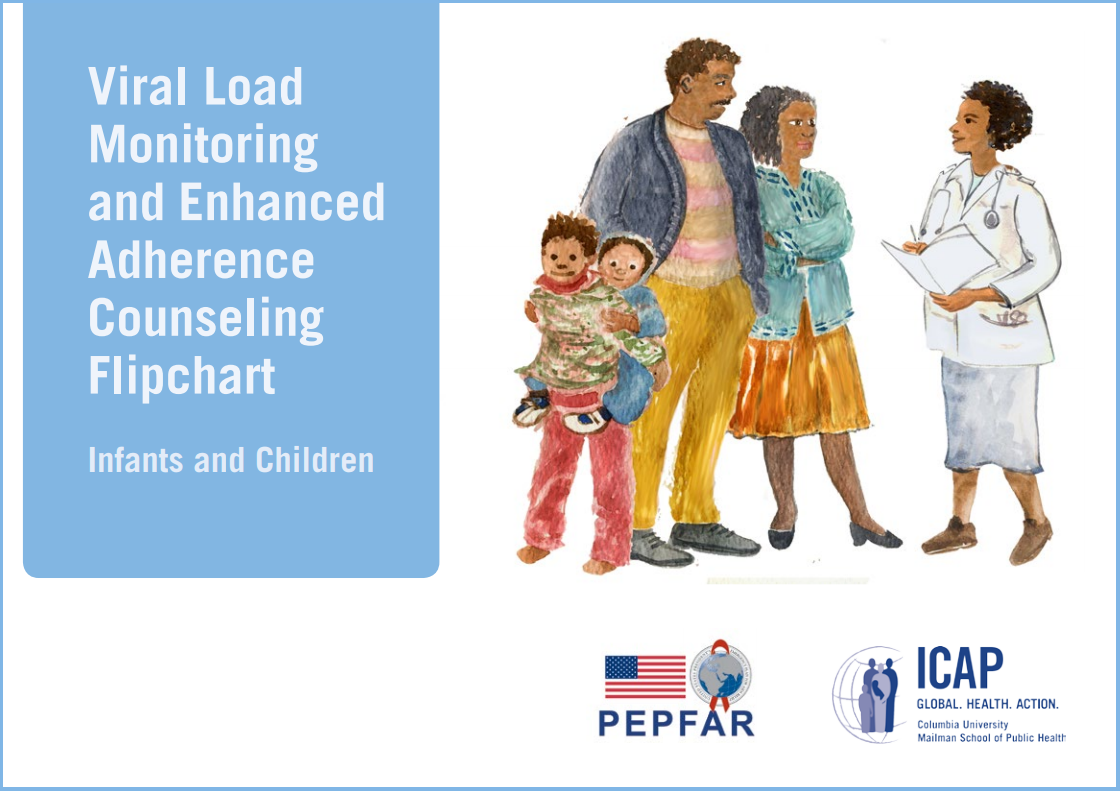 These flipcharts are intended to help health workers provide information about viral load monitoring to patients (or their parents) and to explain the meaning of viral load results. In addition, they guide the provision of enhanced adherence counseling to patients with elevated viral load.
The flipcharts were developed for a range of health care workers (e.g., adherence counselors, doctors, nurses, pharmacists, community health workers) who work with patients living with HIV and their families in settings where viral load testing is being performed.
There are three versions of the flipchart: one for adult (non-pregnant nor breastfeeding) patients, one for adolescent patients, and one for infants and children. Each flipchart is available in English, Swahili, Portuguese, and French, and PowerPoint versions are provided to facilitate adaptation.
Available Resources
| | |
| --- | --- |
| Child Flipchart (English) | PowerPoint (9.97 MB) |
| Adolescent Flipchart (English) | PowerPoint (10.10 MB) |
| Adult Flipchart (English) | PowerPoint (8.35 MB) |
| Pregnant and Breastfeeding Flipchart (English) | PowerPoint (13.56 MB) |
| Flipchart Printing Instructions (English) | PDF (1.17 MB) |
| Child Flipchart (Swahili) | PDF (14.35 MB) PowerPoint (11.27 MB) |
| Adolescent Flipchart (Swahili) | PDF (13.46 MB) PowerPoint (10.83 MB) |
| Adult Flipchart (Swahili) | PDF (11.49 MB) PowerPoint (9.14 MB) |
| Pregnant and Breastfeeding (Swahili) | PowerPoint (10.94 MB) |
| Flipchart Printing Instructions (Swahili) | PDF (153 KB) |
| Child Flipchart (French) | PDF (10.44 MB) PowerPoint (9.62 MB) |
| Adolescent Flipchart (French) | PDF (8.83 MB) PowerPoint (10.32 MB) |
| Adult Flipchart (French) | PDF (2.41 MB) PowerPoint (8.49 MB) |
| Pregnant and Breastfeeding (French) | PowerPoint (11.21 MB) |
| Flipchart Printing Instructions (French) | PDF (204 KB) |
| Child Flipchart (Portuguese) | PDF (2.27 MB) PowerPoint (11.05 MB) |
| Adolescent Flipchart (Portuguese) | PDF (2.40 MB) PowerPoint (10.64 MB) |
| Adult Flipchart (Portuguese) | PDF (2.08 MB) PowerPoint (8.94 MB) |
| Pregnant and Breastfeeding (Portuguese) | PowerPoint (11.23 MB) |
| Flipchart Printing Instructions (Portuguese) | PDF (490 KB) |